Details
The next symposium of the LabEx DRIIHM will take place in Toulouse from 6 to 8 September 2021. We are doing our best to also broadcast the exchanges via a videoconference for those who could not travel.
Whatever the version chosen (face-to-face or videoconference), registration is compulsory via the scienceConf website until midnight on 20 July (Paris time): https://driihm2021.sciencesconf.org
This site allows you to register for these days, to have all the practical information to go to the Jean Jaurès campus, to locate the rooms and to consult the programme of the exchanges. For the moment, this is only a provisional programme which will be updated in June.
We look forward to seeing you there.
Details
Nous sommes très heureux de vous faire part de la tenue du prochain séminaire scientifique de l'OHM Fessenheim. Un moment d'échange convivial, destiné à faire le point sur les projets lauréats de l'appel 2020-21. Il aura lieu à
Strasbourg
, sur le campus universitaire, sur la journée du
Jeudi 01 Juillet 2021 de 9h00 à 17h00
. Le lieu exact sera précisé ultérieurement. Il se tiendra en présentiel autant que faire se peut. Vous pouvez bloquer cette date dans vos agendas.
Le programme détaillé de la journée est disponible en pièce jointe. Chaque porteur de projet disposera de 20-25 minutes pour présenter les travaux engagés. Plusieurs pauses viendront ponctuer la journée pour favoriser les échanges.
Même si nous espérons vivement vous voir "en vrai", ce séminaire est ouvert dans la limite des places disponibles. Il se peut que les places manquent suite aux restrictions sanitaires et leur évolution d'ici juillet. Notez cependant qu'une visioconférence sera de toute façon mise en place. Les détails de connexion arriveront en temps voulu.
Nous vous demandons de bien vouloir vous inscrire
avant le 18 juin
sur ce lien
pour que nous puissions organiser votre venue dans les meilleures conditions.
Si toutefois vous avez besoin de plus d'informations, n'hésitez pas à contacter fanny Greullet : greullet(at)unistra.fr

Details
The "Observatoire Hommes-Milieux Bassin Minier de Provence" (ohm-provence.org) will organize, in Aix-en-Provence (France), from June 8 to June 10, 2021, a scientific meeting about "Bauxite Residues" (also called red mud).
The goal of this meeting is to summarize the knowledge gathered by the different research projects of the Observatoire since ten years and to integrate them to the European research.
Five main topics have been selected:
history of waste management,
wastes characterization and environmental impacts
redevelopment of disposable storage
reuse of wastes
social acceptance and perception, environmental conflicts
Read more: "Bauxite Residues" scientific meeting - from June 8 to June 10, 2021
Details
We have recently distributed a questionnaire on collaborations in man-environment observatories (Observatoires Hommes-Milieux).
A big thank you to the people who have already filled it out !
Few people did not answer all the questions. We strongly encourage you to complete the questionnaire: it will only take a few minutes…
Thank you to the others, and especially to the research partners, for filling in the questionnaire, so that we can have the most accurate picture possible of the collaborations in these structures.


The questionnaire is available in English : https://sondage.irstea.fr/index.php/857679?lang=en
Link to the questionnaire in English: https://sondage.irstea.fr/index.php/857679?lang=en
Please forward the message to your network
The COLLAB² team
Details
Le comité de direction du Labex DRIIHM a évalué les 14 projets post-doctoraux soumis en 2020 ainsi que les projets interOHM. Voici le résultat de cette évaluation.
Projets postdoctoraux lauréats :
1er : Etudier la transition épidémiologique dans une population pastoraliste nomade pour comprendre l'impact des changements du régime alimentaire et l'activité physique sur la régulation du poids (Porteur du projet : Audrey Bergouignan).
2ème : Identification des déterminants des préférences de la population pour les services écosystémiques : Le cas des sites lagunaires palavasien et de Biguglia (Porteur du projet : De Wit Rutger)
Est classé premier sur liste complémentaire : AcoustRivNN- Vallée du Rhône (Porteur du projet : Ghislain Gassier)
Projet interOHM lauréat :

BFRMed - Etude de la contamination par les retardateurs de flamme bromés prioritaires et émergents sur la façade Méditerranéenne des calanques Marseillaises au delta du Rhône (Porteurs de Projet : Malleret Laure / Mirleau Pascal)
Félicitations aux lauréats !
Details
Plus qu'une semaine pour soumettre un projet !
Ne tardez plus, la plateforme de soumission est ouverte jusqu'au 15 décembre minuit.
Nous attendons des projets sur les thématiques OHM, interOHM (projets concernant au moins deux OHM) et des projets post-doctoraux. Pour ces deux derniers APR, vous devez contacter le(s) directeur(s) d'OHM concernés avant toute soumission.
Pour plus d'informations, veuillez consulter le cadrage de ces APR et les thématiques de recherche propres à chaque OHM en cliquant sur l'une des versions ci-après : française / anglaise.
Nous vous rappelons que la soumission se fait en deux temps : dans un premier temps, vous rentrez la partie scientifique du projet et vous la sauvegardez. Ce n'est qu'après cette étape que vous pourrez détailler la partie administrative et budgétaire de votre projet. Ces deux étapes sont détaillées dans le cadrage général ci-dessus.
RAPPEL : Le porteur de projet doit appartenir à une unité CNRS ou un établissement partenaire financier du LabEx (Université de Nîmes, Université de Pau et des Pays de l'Adour, AMU, Université Lyon 1, UBO, Université de Corse, Université des Antilles, Université de Lorraine, Université de Strasbourg, Université de Caen, ENS Lyon, INRA, MNHN, Ecole des mines Saint Etienne, Irstea et l'IRSN). Si le porteur n'appartient pas à l'un de ces établissements, il devra s'associer obligatoirement à un co-porteur qui l'est et dont l'unité gèrera le budget du projet.
Details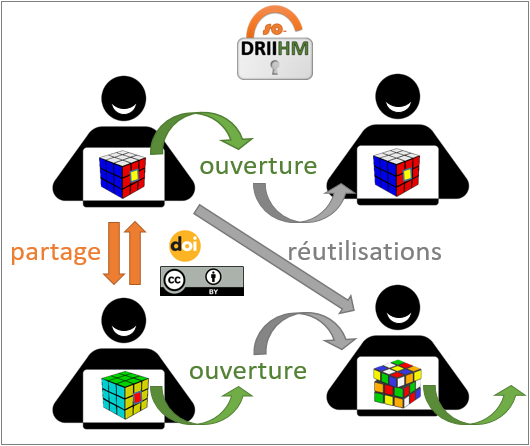 English version below

Données FAIR, science ouverte, plan de gestion de données, infrastructure de données... kesako ? L'objectif du projet SO-DRIIHM (mai 2020 - avril 2022) est avant tout de familiariser la communauté scientifique DRIIHM aux principes et bonnes pratiques en matière de partage et d'ouverture des données.
L'idée, c'est aussi de co-construire avec vous – chercheurs et ingénieurs producteurs et/ou utilisateurs de données – une "e-infrastructure" de données simple, pratique et d'intérêt pour mieux échanger et croiser les données au sein des OHM et entre OHM.
"As open as possible, as closed as necessary" comme l'énonce la Commission européenne dans le cadre du programme H2020 : il n'est donc pas question ici d'imposer l'ouverture de toutes les données produites par les OHM !
Plusieurs événements en lien avec cette thématique seront organisés durant les prochains séminaires des OHM et du Labex DRIIHM, ainsi que des workshops spécifiques. Votre participation sera un plus pour nous ! Nous pourrons ainsi mieux répondre à vos attentes et à vos questionnements. La "co-construction" est le maître-mot, terme fidèle à la philosophie DRIIHM !
1er rdv à noter : workshop SO-DRIIHM en juin prochain à Toulouse (plus d'informations à ce sujet très bientôt).
Read more: Le projet SO-DRIIHM est lauréat de l'Appel Flash ANR "science ouverte"