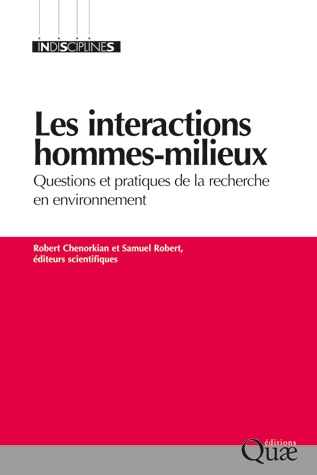 Human and Environmental Interactions. Environmental Research Questions and Practices

Robert Chenorkian & Samuel Robert (ed.), Collection « Indisciplines », Quae / NSS, 2014
The human and environmental observatories can enlighten the current issues of global change and globalisation of human activities, especially those affecting the biodiversity, the vulnerability of environments and regions, the impacts on the resources and the health of populations. Taken from miscellaneous scientific disciplines, this work brings a free viewpoint on the topic "Think about observation and research in human and environmental interactions".
Until the arrival of Homo sapiens, the media were relatively unaffected by human activities. Thereafter, with the accumulation of technical and ideological acquired, the man had a growing impact on the environment. The set of relationships characterizing the influence of environment on the action and operation of human societies, and the impact of human activities and decisions on the environment, constitutes the "men-media interactions."
The objective of the human and environmental observatories is to develop a conceptual, epistemological and operational framework for the interdisciplinary study of these interactions. This approach is based on collaboration between various scientific disciplines and exchanges between scientific sphere and social actors, be they political, economic or associations.
These include inform current issues related to global change and globalization of human activities, particularly those relating to biodiversity, vulnerability of environments and territories, the impact on resources and the health of populations .
From various scientific disciplines, researchers were asked to provide a free view on the theme "Think observation and research on the interaction between men and backgrounds." Reminders epistemological perspective on the place of science in society, methodological proposals, discussion of research practices and societal expectations, constitute the main contributions.
For more information: Record Quae